Welcome in our beautiful region Weissenfelser Land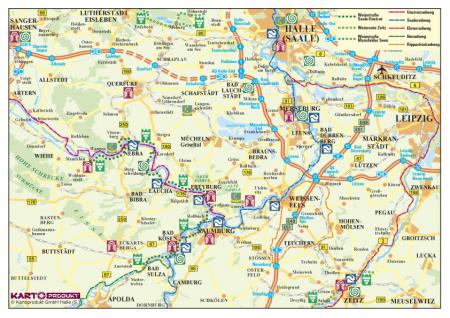 kindly supported by Saale-Unstrut-Tourismus e.V.
The region Weissenfelser Land is situated in the southernmost part of the county Saxony-Anhalt right in the middle of Germany, close to Leipzig, Halle, Jena and Weimar.
Weissenfels is a cultural tourist attraction as well as an entrance to the scenic valley of the river Saale, including the district Saale-Unstrut, well-known for its vineyards.
Taking a journey along the Saale-Radwanderweg, a national cycling route leading through Weissenfels and the region Weissenfelser Land, the visitor explores the beautiful landscape on the one hand and a variety of cultural attractions on the other.
Modern hotels and B & B's provide sufficient accommodation, and museums and exhibitions will make your stay in the region a pleasant experience.
We are in the making to present an English version of our website.
Please do visit us again.
For any questions you may have please do not hesitate to contact us:
Fremdenverkehrsverein Weissenfelser Land/ visitor centre Weissenfels
Markt 1
06667 Weissenfels
Germany
Telefon: + 49 (0) 3443/ 30 30 70
Fax: + 49 (0) 3443/ 239472
Email:
Internet: www.weissenfelstourist.de
Opening hours:
Monday to Friday 9 am – 6 pm
Saturday 9 – 12 am